– Magnachip commences full-scale mass production of 1200V and 650V IGBTs for PTC heaters of electric vehicles
SEOUL, South Korea, September 11, 2023 – Magnachip Semiconductor Corporation ("Magnachip" or "Company") (NYSE: MX) announced today the launch of its 1200V and 650V Insulated Gate Bipolar Transistors (IGBTs), designed for the positive temperature coefficient (PTC) heaters of electric vehicles (EVs).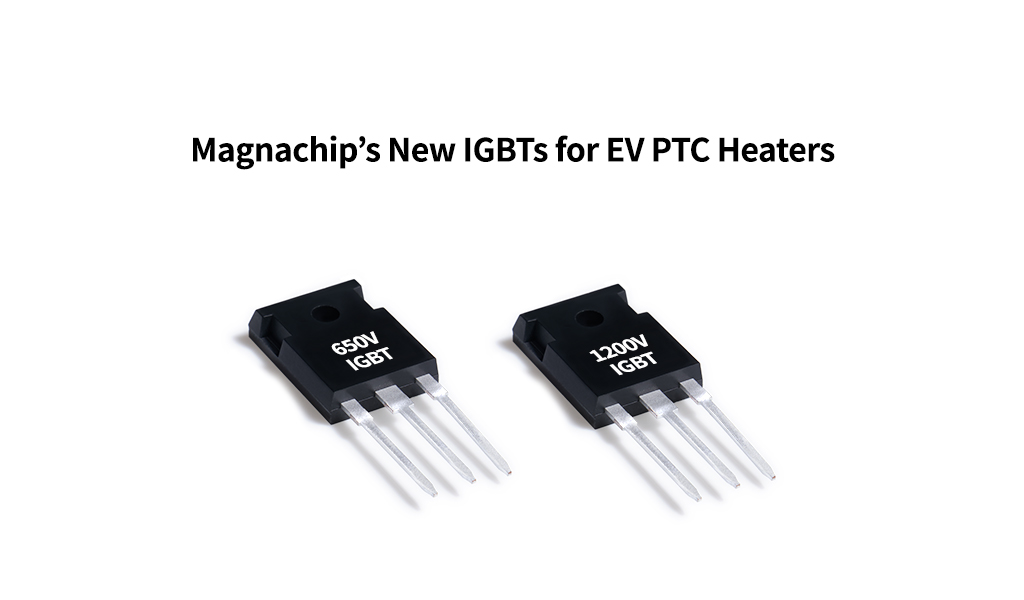 Built upon Magnachip's cutting-edge Field Stop Trench technology, the newly introduced AMBQ40T120RFRTH (1200V) and AMBQ40T65PHRTH (650V) offer a minimum short-circuit withstand time of 10µs. This remarkable level of ruggedness enables PTC heaters to be protected from a permanent failure in the event of overcurrent conditions.
Furthermore, the thick and large heat sink of the TO-247 package allows these new IGBTs to excel in heat dissipation. Therefore, these IGBTs are well-suited for applications requiring high power and efficiency, such as both the upper and lower sides of power management integrated circuits of PTC heaters.
"Since early last year, Magnachip has released high-performance automotive power solutions that adhere to the stringent AEC-Q101 standards," said YJ Kim, CEO of Magnachip. "Now that we have successfully released our first IGBT products for EVs, we will continue to expand our product lineup to meet the diverse needs of the EV market and cater to the demands of our valued customers."

Related Links
Power Solutions > IGBT Chip for Standard Module > 1200V
About Magnachip Semiconductor
Magnachip is a designer and manufacturer of analog and mixed-signal semiconductor platform solutions for communications, IoT, consumer, computing, industrial and automotive applications. The Company provides a broad range of standard products to customers worldwide. Magnachip, with more than 40 years of operating history, owns a portfolio of approximately 1,100 registered patents and pending applications, and has extensive engineering, design and manufacturing process expertise. For more information, please visit www.magnachip.com. Information on or accessible through Magnachip's website is not a part of, and is not incorporated into, this release.
In the Media
    Magnachip Targets Electric Vehicle Market with New 1200V and 650V IGBTs Featuring Advanced Field Stop Trench Technology