– The 40V MXT MOSFET with RDS(on) as low as 1.4mΩ enables effective kinetic energy recovery in cars
 SEOUL, South Korea, June 12, 2023 – Magnachip Semiconductor Corporation ("Magnachip" or "Company") (NYSE: MX) announced today that the Company has begun mass production of its new 40V MXT Metal-Oxide-Semiconductor Field-Effect Transistor (MOSFET)1 for automotive energy recovery systems. This product is used in the automobile of a global automaker.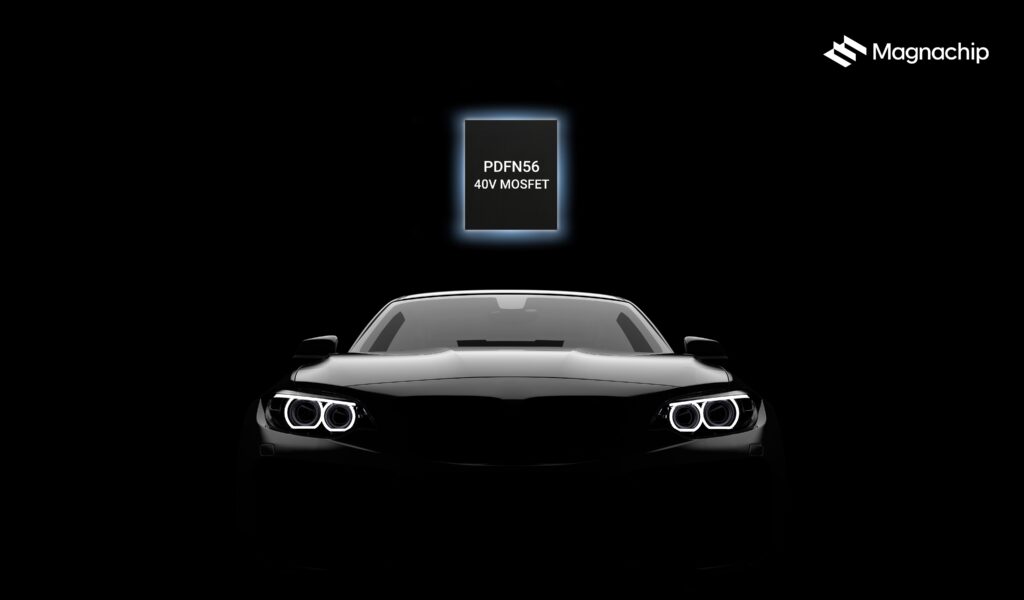 An automotive energy recovery system stores a vehicle's kinetic energy while braking and uses the recovered energy for functions such as air conditioning or audio systems afterwards. Therefore, this feature improves fuel economy and reduces emissions.
Built on a Power Dual Flat No-lead (PDFN) 56 package with enhanced design of the core cells and terminations, the 40V MXT MOSFET (AMDU040N014VRH) offers RDS(on)2 as low as 1.4mΩ to enhance the efficiency of kinetic energy recovery. In addition, a guaranteed operating junction temperature up to 175°C and a high level of avalanche ruggedness increase the power density and efficiency of the energy recovery system.
With the application of the PDFN56 package, the size of this new MOSFET was reduced by approximately 80%, as compared to other 40V MOSFET products designed with a Decawatt Package (DPAK). As a PDFN56 package is widely used in the automotive sector, the new product is well-suited for various applications such as reverse voltage protection circuits and brushless direct current motors of internal combustion engines and regenerative braking systems of electric vehicles.
"We are pleased to deliver another innovative automotive power solution, which is fully AEC – Q101 qualified for its performance and stability," said YJ Kim, CEO of Magnachip. "Leveraging our heritage of innovative technology, Magnachip will continue to develop premium products that satisfy the diverse and changing market requirements of the automotive market."
---
1 MXT MOSFET (Magnachip eXtreme Trench MOSFET): Magnachip's cutting-edge product portfolio of trench MOSFETs, including low and medium voltage (12V to 200V) MOSFETs
2 RDS(on): On resistance, the resistance value between the drain and the source of MOSFETs during on-state operation
Related Link
Power Solutions > MXT MOSFETs > 40V
About Magnachip Semiconductor
Magnachip is a designer and manufacturer of analog and mixed-signal semiconductor platform solutions for communications, IoT, consumer, computing, industrial and automotive applications. The Company provides a broad range of standard products to customers worldwide. Magnachip, with more than 40 years of operating history, owns a portfolio of approximately 1,100 registered patents and pending applications, and has extensive engineering, design and manufacturing process expertise. For more information, please visit www.magnachip.com. Information on or accessible through Magnachip's website is not a part of, and is not incorporated into, this release.
In the Media
     Magnachip Starts Mass Production of 40V MXT MOSFET for Automotive Energy Recovery Systems