– First quarter revenue of $123.0 million was down 13.9% sequentially and up 2.1% year-over-year (YoY).
– Gross profit margin for the first quarter was 27.9%, up 100 bps sequentially and up 370 bps YoY.
– GAAP diluted loss per share for the first quarter was $0.19.
– Non-GAAP diluted earnings per share was $0.22.
SEOUL, South Korea, May 10, 2021 /PRNewswire/ — Magnachip Semiconductor Corporation (NYSE: MX) ("Magnachip" or the "Company") today announced financial results for the first quarter 2021.

"Magnachip delivered solid quarterly results despite the industry-wide supply constraints. Our revenue came in above the midpoint of the company's Q1 revenue guidance range, driven by strong growth in the Power solutions business. Gross profit margin exceeded the high-end of our expectations due to the improved product mix and higher utilization," said YJ Kim, Magnachip's chief executive officer.
Due to the pending merger with an investment vehicle formed by an affiliate of Wise Road Capital LTD pursuant to a definitive agreement executed on March 25, 2021, Magnachip will not be hosting a quarterly earnings conference call and has suspended the practice of providing forward-looking guidance. Please review the 'Investors' section of the Company's website for the quarterly financial results and SEC filings for the latest updates on the pending transaction.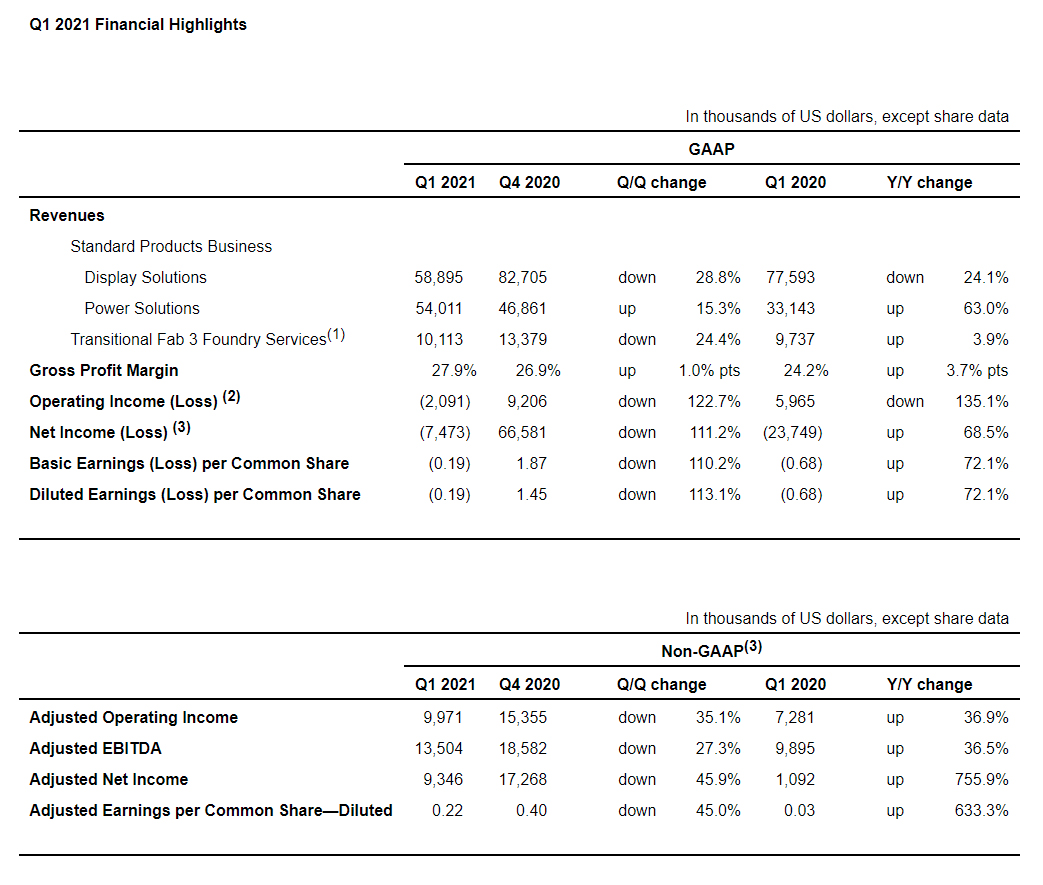 (1) Following the consummation of the sale of the Foundry Services Group business and Fab 4 in Q3 2020, and for a period of up to three years, the Company will provide transitional foundry services to the buyer for foundry products manufactured in the Company's fabrication facility located in Gumi ("Transitional Fab 3 Foundry Services"). Management believes that disclosing revenue of Transitional Fab 3 Foundry Services separately from the standard products business allows investors to better understand the results of our core standard products display solutions and power solutions businesses.
 (2) In Q1 2021, operating loss of $2.1 million included non-recurring professional fees and certain transaction related expenses of $9.8 million in connection with a definitive agreement (the "Merger Agreement") that the Company entered into with South Dearborn Limited, an exempted company incorporated in the Cayman Islands with limited liability ("Parent"), formed by an affiliate of Wise Road Capital LTD, and Michigan Merger Sub, Inc., a Delaware corporation and a wholly owned subsidiary of the Parent ("Merger Sub"). The Merger Agreement provides that, among other things, Merger Sub will be merged with and into the Company (the "Merger"), with the Company continuing its corporate existence as the surviving corporation in the Merger and becoming a wholly owned subsidiary of Parent.
(3) In Q4 2020, total net income of $66.6 million included one-time recognition of deferred tax benefits of $43.9 million.
(4) Non-GAAP financial measures are calculated based on the results from continuing operations. Management believes that non-GAAP financial measures, when viewed in conjunction with GAAP results, can provide a meaningful understanding of the factors and trends affecting Magnachip's business and operations and assist in evaluating our core operating performance. However, such non-GAAP financial measures have limitations and should not be considered as a substitute for net income from continuing operations or as a better indicator of our operating performance than measures that are presented in accordance with GAAP. A reconciliation of GAAP results to non-GAAP results is included in this press release.
Safe Harbor for Forward-Looking Statements
Information in this release regarding Magnachip's forecasts, business outlook, expectations and beliefs are forward-looking statements within the meaning of the Private Securities Litigation Reform Act of 1995 that involve risks and uncertainties. All forward-looking statements included in this release are based upon information available to Magnachip as of the date of this release, which may change, and we assume no obligation to update any such forward-looking statements. These statements are not guarantees of future performance and actual results could differ materially from our current expectations. Factors that could cause or contribute to such differences include the possibility that any or all of the conditions precedent to the consummation of the pending merger may not be satisfied or waived; unanticipated difficulties or expenditures relating to the proposed merger; that the merger may not be completed in a timely manner or at all; the diversion of and attention of Magnachip's management on merger-related issues; legal proceedings, judgments or settlements following the announcement of the proposed merger; disruptions of current plans and operations caused by the announcement and pendency of the proposed merger; potential difficulties in employee retention due to the announcement and pendency of the proposed merger; the response of customers, suppliers, business partners and regulators to the announcement of the proposed merger; the impact of changes in macroeconomic and/or general economic conditions, including those caused by or related to the COVID-19 outbreak, recessions, economic instability and the outbreak of disease; the impact of competitive products and pricing; timely design acceptance by our customers; timely introduction of new products and technologies; ability to ramp new products into volume production; industry wide shifts in supply and demand for semiconductor products; industry and/or company overcapacity; effective and cost efficient utilization of manufacturing capacity; financial stability in foreign markets and the impact of foreign exchange rates; unanticipated costs and expenses or the inability to identify expenses which can be eliminated; compliance with U.S. and international trade and export laws and regulations by us and our distributors; change or ratification of local or international laws and regulations, including those related to environment, health and safety; public health issues, including the COVID-19 pandemic; other business interruptions that could disrupt supply or delivery of, or demand for, Magnachip's products, including uncertainties regarding the impacts of the COVID-19 pandemic that may result in factory closures, reduced workforces, scarcity of raw materials and goods produced in infected areas, as well as reduced consumer and business spending affecting demand for Magnachip's products due to government and private sector mandatory business closures, travel restrictions or the like to prevent the spread of disease; and other risks detailed from time to time in Magnachip's filings with the SEC, including our Form 10-K filed on March 9, 2021 (including that the impact of the COVID-19 pandemic, trade tensions and supply constraints may also exacerbate the risks discussed therein) and subsequent registration statements, amendments or other reports that we may file from time to time with the Securities and Exchange Commission and/or make available on our website. Magnachip assumes no obligation and does not intend to update the forward-looking statements provided, whether as a result of new information, future events or otherwise.
About Magnachip Semiconductor 
Magnachip is a designer and manufacturer of analog and mixed-signal semiconductor platform solutions for communications, IoT, consumer, industrial and automotive applications. The Company provides a broad range of standard products to customers worldwide. Magnachip, with more than 40 years of operating history, owns a portfolio of approximately 1,200 registered patents and pending applications, and has extensive engineering, design and manufacturing process expertise. For more information, please visit www.magnachip.com. Information on or accessible through Magnachip's website is not a part of, and is not incorporated into, this release.
 View original content to download multimedia:http://www.prnewswire.com/news-releases/magnachip-reports-results-for-first-quarter-2021-301287179.html
SOURCE Magnachip Semiconductor Corporation